Yeah, I'm also going to the Debconf9 :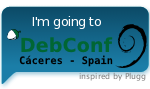 Actually, it will be my very first real Debconf as a contributor to Debian, even if I was around at the Debconf 0 and 1 in Bordeaux, which were held during the early editions of the RMLL/LSM.
And I'll start the July conferences with the LSM/RMLL where I'll chair a track on development (where Debian will be discussed, btw).
See you in Nantes and in Caceres, to discuss Helios, bts-link, UDD, bugtracking on the Semantic Web, forges, and other interesting matters.